お知らせ
2022-02-16 15:15:00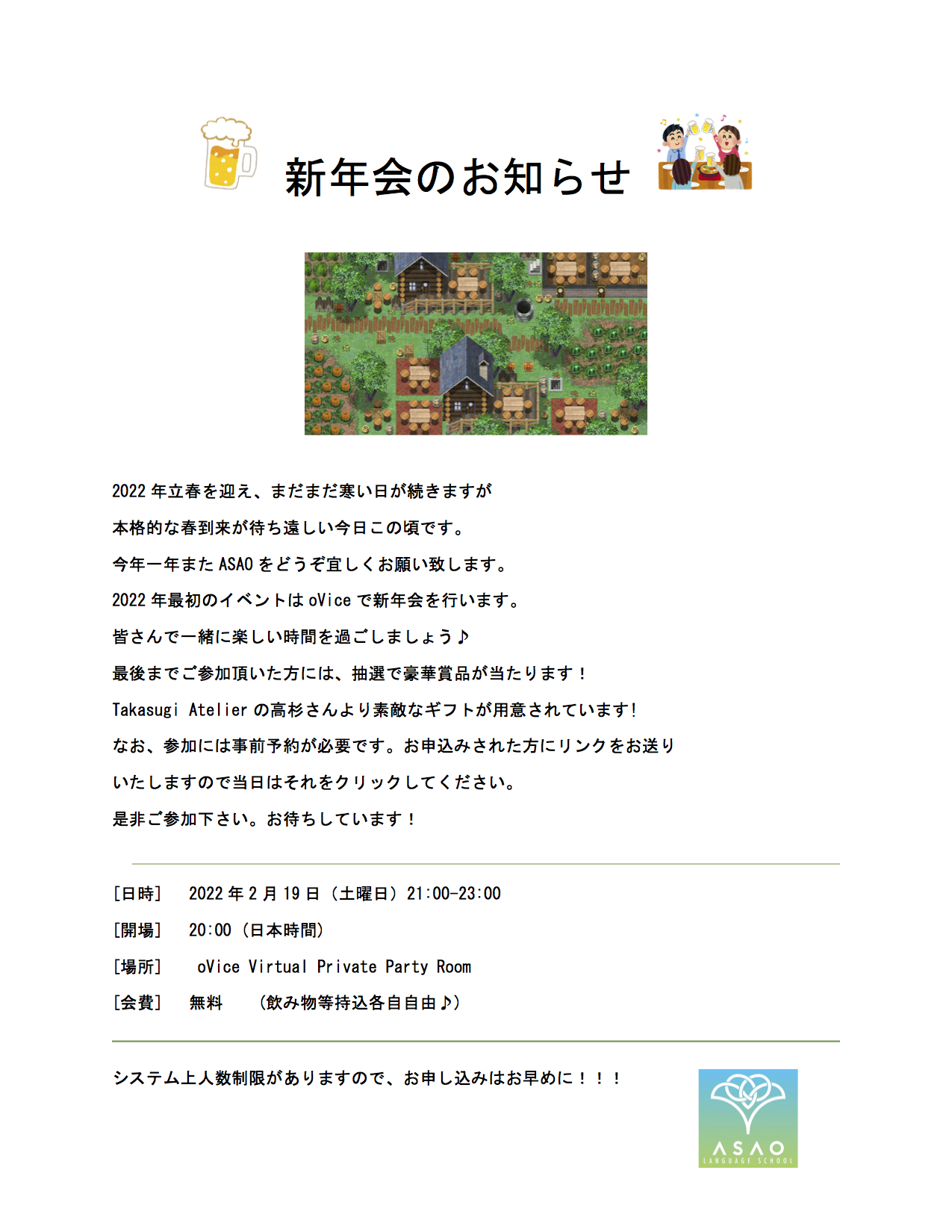 Welcome back to Asao Language School!
Please join us for our first get-together event of the year, 2022 Online Shinnnennkai on Saturday 19 February!
Like always, Takasugi Atelier and Asao Language School are hosting the event together :)
https://www.instagram.com/takasugiatelier/
This is going to be a great opportunity for you to get to know other members of our community while practicing Speaking and Listening with native speakers in the most relaxed atmosphere :)
During the event, you can also try our language quizzes. We will make some of them more difficult to solve than others, so feel free to walk around and ask Japanese participants for help!
When you know the answer, please check with Asao teachers nearby. If the teacher confirms that your answer is correct, your name will be in the final prize drawing!
Our co-host Takasugi san has prepared Gold, Silver, Bronze prizes for you to win. Thank you!
Gold prize:
https://item.rakuten.co.jp/matusaka-maruyosi/sb-t-500/
Silver prize:
https://item.rakuten.co.jp/matusaka-maruyosi/mrg-35/
Bronze prize:
https://item.rakuten.co.jp/matusaka-maruyosi/m-torimisoyaki-2/
(If you are joining from abroad, we will send you an eGift card with the same value!)
Time and Date:
21:00 - 23:00 on Saturday 19 February (Japan Time)
The room is open from 20:00.
During the event, you can pop in and out of the room anytime you like.
Location:
Virtual private party room on oVice
It is browser based. All you have to do is to click the link we will send you. It works best on Google Chrome. Using laptops and desktops is recommended.
How to use oVice:
Participants:
We are welcoming Japanese learners, Japanese teachers, English learners and absolutely everybody who enjoys language learning from all over Japan and the world :) Your friends and family members are also welcome to join us.
There is a limit to the number of participants we can accommodate. We would also like to have a good nationality mix on the day so if you are joining, please make sure to register as soon as you can. It is on a first come, first served basis!
How to participate:
Please click the following link to sign up.
https://forms.gle/qEh3kGSigRPyDZJ27
Once your participation is confirmed, we will email you the following before the event.
1. The link to get in the room
2. A language quiz
Participation fee:
Free
We are welcoming a well balanced mix of participants of different Japanese levels so even if you are a complete beginner, no worries! Asao teachers will be there too so you will always have somebody to talk to.
Let's have fun!
Hope you can make it :)
Looking forward to seeing you!
Asao
どなたでも気軽にご参加頂ける異文化交流イベントです。
当日はお好きなタイミングで入退室が可能ですので、短時間でもご都合がつくようでしたら是非一度遊びに来て下さい :)
またクイズに見事正解された方の中から抽選で、株式会社高杉アトリエ様より豪華商品が当たります!
Japanese Lessons
Monthly Subscription for Japanese Lessons
https://shamrocklanguage.com/free/japanese-lesson-2
Mock JLPT online
https://shamrocklanguage.com/free/mock-jlpt
日本語教授法研究会
https://shamrocklanguage.com/free/teacher-training
YouTube:
https://www.youtube.com/channel/UCJKclcwAQhn92ilBXSScTag
Facebook:
https://www.facebook.com/asaolanguage
Instagram:
https://www.instagram.com/asaolanguageschool
英語レッスン
#JapaneseLesson #StudyJapanese #LearnJapanese #JLPT #新年会 #online #event